2017-08-11
Create Desired Curve for Petite Breasts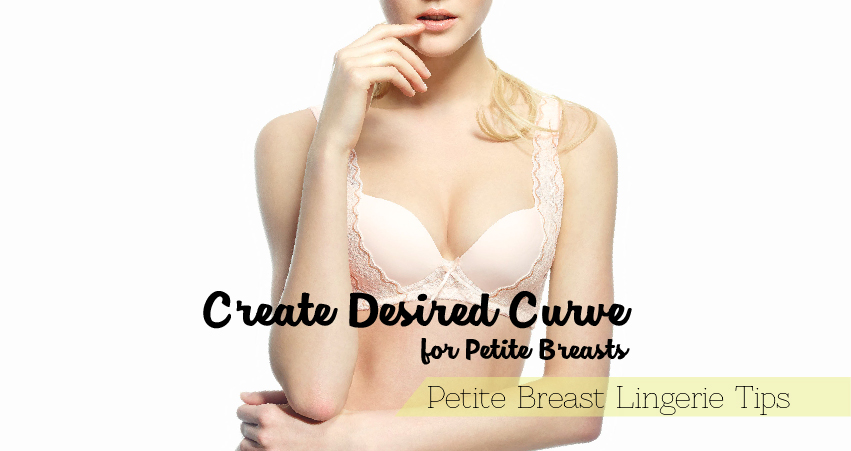 We had talked about what is petite athlete type of breasts before. Let's get to the real deal in this one by showing which styles will give you a gorgeous curve and feminine silhouette that you desired.
---

Click on the above Photo Tips#01 for our recommended styles.
Better to lift them up then push them in.
Most women with petite type of bust will find their breasts are not full on top. Hence, a correct lift with the help of a padded bra to create more fullness on top, or even a flattering cleavage to give a more feminine appearance. Depending on your particular shape, you can pick padded bras or for more flexibility, bras with inner pockets for add-on pads.
We also recommend wireless bras with push up effect as it can simply eliminate discomfort caused by the under-wires usually experienced by petite breast women with wider roots.

Better to choose a 3/4 cup or balconette bra with a higher centre panel, i.e., medium and high centre gore. Bras with a higher gore will give you a fuller chest. Remember try not to choose deep V or plunge bras, it may not be a good choice for those with wide-set breast, as it is very likely to leave you with gaps in between the cups.
---

Click on the above Photo Tips#02 for our recommended styles.
Sports bra can also offer a natural curve
Sports bras is one of their favourite bras for most petite breast women. But please try not to wear them everyday. As most sports bras will just flatten your breasts by pressing them down like pancakes and make you look flat-chested under clothes.
If you would like your breasts to look natural with reasonable fullness, you can try on those sports bras with built-in moulded cups as they will offer both shape and comfortable support.
---

Click on the above Photo Tips#03 for our recommended styles.
Show off your shoulders and back
Strapless bras are usually the cup of tea for petite breast women simply because they do not need too much support from the shoulder straps of a bra. Moreover, strapless bras are indeed perfect for off-shoulder and backless clothes that will add a little more sexiness. However, tube bras is not suitable as they will make you utterly shapeless.
Choose strapless bras with moulded cups as it provides a more attractive shape of your bust. You might consider to buy a sister size of your usual size (size down a band and up in the cup, i.e. 34A to 32B ) if you are already fasten the tightest hooks. It can hold the bra up by increasing the tightness of the band and allow adjustment when you feel uncomfortable to wear during the day.
While wearing backless, low-cut fashions, or a regular strapless bra do not hold up your chest and difficult to keep in place, a medical-grade adhesive bra would be a good investment.
---
Of course, the above is just a general guide of lingerie choices for petite breast type of women. We hope that you will find our suggestions useful to help you find the shape that you desire. Nevertheless, we believe that every woman should always feel good about herself irrespective of shapes.