Topic 1: OUR SIZE & FIT
You may find thousands of bra fittings guides and information on the internet nowadays. And therefore, we don't bother to repeat the same information here.
Most of bras that you find here are designed with shaping functions to achieve your desired fit, contour and shape. Thus, our Size & Fit guide is here to show you the goods and to guide you to find your perfectly fitting functional shaping bras.
We tried not to be too educational and lengthy, just enough for you to make the right choice. But of course you can stop here if you don't want to read, just use our "Get Fitted" online service now and we'll do the rest for you.
---
Topic 2 – A FEW BRA FACTS
Fact 1: It is not kidding. 8 out of every 10 women wear the wrong sized bra. Are you one of them?

Many bra experts and researches voiced out this fact but do you know if you're one of the many? Of course, there are many symptoms can be named for you to check. However, we believe that you'll simply know it: "if you don't feel comfortable when you put on a bra and don't feel good, it means it does not fit you."
---
Fact 2: Not Just Size, Style and Cutting are also Important!

The fact that "a lot of women are wearing wrong sized bra", is only partly true, as many out there are indeed wearing bras with styles and cuttings just not suitable for their shapes as well. It may not be a problem at the beginning, except some discomforts and undesired outlook, but in the long run, migrated fats and unwanted bulges may form, original breasts shape may change, and these will disappoint you day by day.
---
Fact 3: A Good Fitted Bra Shall Make You Look and Feel Amazing!
No one will argue that. But what bra makes you feel good? Of course, it must be beautiful on the appearance, comfortable on the feel, and most importantly gives you desired shape and contour that you flatter. A good fitted bra means it suits you well in size, style and cutting. When you put it on, you can see a beautiful contour and shape of your breasts instantly and feel confident and secured having it on.
---
Topic 3 – FUNCTIONAL SHAPING BRA
What is it and how is it different from my everyday bras?
Our functional shaping bras strongly emphasise on the protection, supporting and stability to form a beautiful shape of the breasts. It requires more consideration on the fabrics use, cutting, body shapes and proportions. It is a useful tool to give you a smooth and flawless look instantly. You will also see long term improvement on your shape as it helps to hold, direct and correct migrated fats and bulges at the back and underarm, back to the right position.
---
On appearance
Functional shaping bras just look "bigger" than normal bras that you see every. It simply covers more of your body and has the following features in general: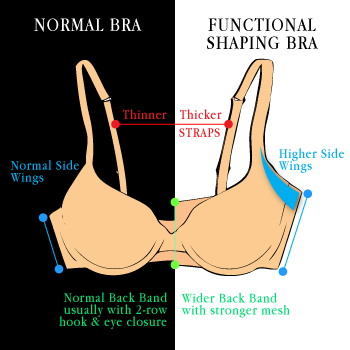 Wider Back Band with at least 3-4, or even more rows of hooks - Band strength is our main concern, hence, for our functional shaping bras, a min. of 3 rows of hooks will be provided for better stability and hold.

Higher Side Wings with special designed panel at the underarms - The Side Wings Panels are specially designed to cover and smooth out the migrated breasts tissues. We have different levels of coverage and strength from normal, medium to highly cover.

Thicker Shoulder Straps with stronger elastics - Our shoulder straps are about 1.5 to 2cm in width made of strong elastics materials for better spread of weight of breasts on shoulders and stronger strength.

The use of Power Mesh at the band - The use of power mesh aims to give better hold and tightening effect on back fats and improve the stability of bra. We have different density of power mesh to suit different needs, from light to strong control.
---
On design cutting
Functional shaping bra considers more on designing to suit your body shape as it aims to contour to your desired shape. Each style is designed to fit specific type(s) of body shapes only. It means that you may find particular styles that suit you quite well but others do not.
---
On fitting
As functional shaping bras need to cover more of your body, they are harder to fit. But once fitted properly, they can:

Concentrate, Lift & Support, Hold & Define the Contour of Your Breasts; and

Smooth & Direct Migrated Fats and Bulges at Problematic Areas including Underarms and Back, back to the correct positions for fuller breasts.
You may find these bras are tighter and with more coverage when you first put on. These give you better control and secured fit but you will still feel comfortable. You will notice a beautified contour instantly even under clothes.
---
Conclusion
By adjusting the detailing of the functional features together with consideration of accommodating different body shapes in design cutting, our bras can have with different levels of tightness, strength, coverage and support to suit different women.
---
Types of Functional Shaping Bra
We provide both wired and wireless bras that can achieve the desired shaping functions.


Traditional bras sewn in wire under the cups to provide stability and support to your bust as wires are strong and rigid. Our wired shaping bras can provide the best shaping effect and supporting function to your bust.
Tips: Whenever you choose a wired bra, only those with the right curvature and length of wires that suit your shape of body and breasts to fit you comfortably. Otherwise, you will feel discomfort.
---

Traditional wireless bras are comfortable but on the other hand, the lack of rigid wires in the bra gives less shape and support to the bust, especially to larger bust. Generally, the bust of woman in a wireless bra would look more flat on chest.
Our wireless shaping bras differentiate from other wireless bras in the market through our tailoring techniques to enhance the stability like that a normal wired bra can provide. Without the constraint of curvature and length of rigid metal wires exerted on the body, our wireless shaping bras are more comfortable and easy to fit, whilst the shaping effect and support on the bust can just be as good as a wired bra.
---
Can you tell the difference between wired & wireless bras?

Can you tell the difference between our wired and wireless shaping bras? We bet you can't. Whilst our wired shaping bras can provide the best shapes and support to your bust, our wireless shaping bras can provide higher degree of comfort along with flattering breasts shape. So whether it is wired or wireless does not really matter anymore. Feel the fit to tell you what to choose!
---
What are the Benefits of wearing it?

Instant beautification of Breasts Shape and Contour

Smooth out bulges and re-define the contour of other surrounding areas including underarms and back giving a beautiful curve.

Adequate lift and support on your breasts with better stability and secured fit.

Directing migrated breasts tissues back to have a fuller breasts shape that results in real shape improvement and good body maintenance in long term.
---
Any downside?
Functional shaping bras look bigger as they need to serve the functions. They may not be as sexy as normal bras but they are still beautiful. We didn't say you shall not wear normal bras. All we suggest is that you will need variety of bras (just like you have many pairs of shoes), and you can imagine that functional shaping bras are just like the good supportive sports shoes in the bra world, which can give you proper protection and support to a better shape and performance. You simply will not live without a few in your wardrobe.
---
Topic 4 – HOW TO CHOOSE A FUNCTIONAL SHAPING BRA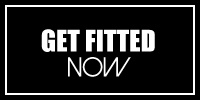 We highly recommend you to use our "Get Fitted" online fitting service and we will do the rest. However, the following you should also know.
---
Step 1: Get Your Measurements Correctly
It is very common that a woman calls her breasts size by bra size, i.e., 34B, 36C, etc. However, remember that this is only the bra size for you to shop a bra, but not your true breast size. Down to the root, get your updated measurements is the most important step whenever you want to get a bra online as your size may change from time to time. So follow the following steps to make your measurements correctly before you shop.
Get Yourself Ready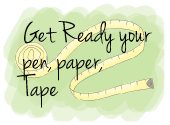 Get ready a pen, paper and a measuring tape.

Take off your clothes but not your bra. It is not easy to measure when you are braless. So before anything, put on a wired bra that you think fit.

Simply follow below guidelines to get the 3 figures.
---
Measure Your Under-bust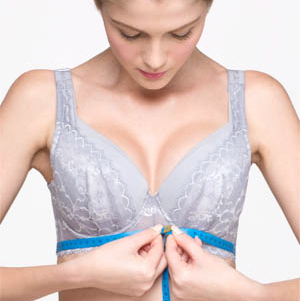 Stand up, then relax your arms and shoulders.

Wrap a tape measure around your ribcage at just the height of your underwire position (Important). Remember to keep the tape horizontal and just tight enough to avoid tape falling down at the back.

Breathe out and read the measurement, in centimetres (cm). Jot it down as "Figure (1)".
---
Measure Your Bust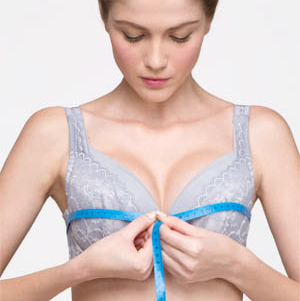 Next, move the tape up and measure at the height of your fullest part of your bust.

Again, keep the tape horizontal with the tape just tight enough to avoid tape falling down at the back. At the same time avoid squeezing your breasts in the front.

Breathe out and read the measurement, in centimetres (cm). Jot it down as "Figure (2)".
---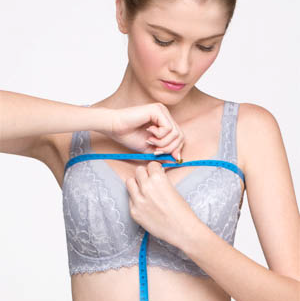 Measure your Upper-bust under Armpit

Next, move the tape up until it touches the armpit level. (remember to stand as straight as you can!!)

Again, keep the tape horizontal just tight enough to avoid tape falling down at the back. At the same time avoid squeezing your flesh too much in the front part of your underarm.

Breathe out and read the measurement, in centimetres (cm). Jot it down as "Figure (3)".
Now you have the most important figures to determine your bra size. Just get your figures together and go to "Find Your Bra Size" section below.
---
Step 2: Find Your Bra Size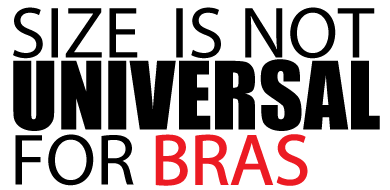 Remember! There is no single universal sizing chart for bras. Although there are widely accepted standards adopted by different manufacturers, there are still variance across different countries and brands. Therefore, whenever you decide to buy a bra online, you should be well aware of your latest measurements and then match them with the size chart provided by individual bra-makers. The use of other size chart from other sources is a No-No as it is simply not wise.
Our Bras have the following characteristics: A-B Cups are from normal to thick padded. Therefore our A-B cups can accommodate women with smaller breasts size. Most C Cups and all D Cups or above are lightly lined or non-padded and the sizing meets most international size "standards".
---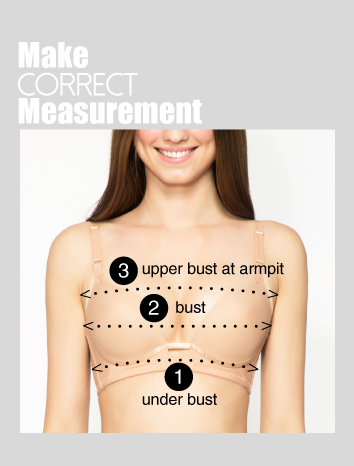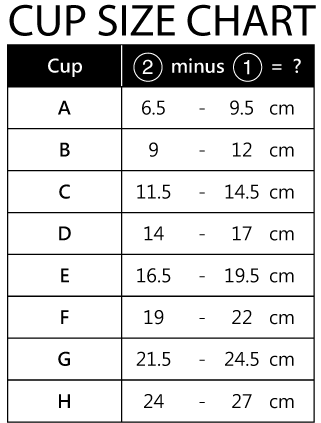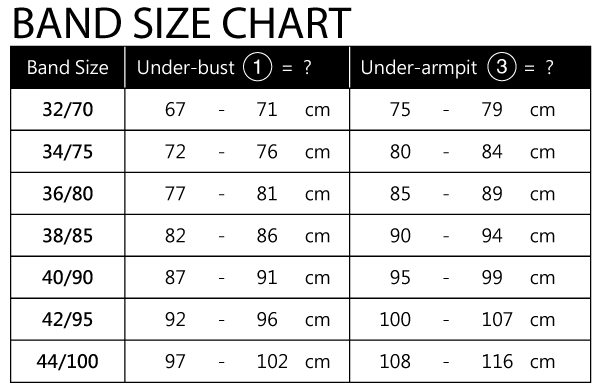 Our Bra Size Charts
How to Use? From the Figures (1), (2) & (3), you can find your basic bra size of Satami.
---
To find your cup: Simply minus the bust measurement (Figure 2) by the under-bust measurement (Figure 1) and go across "Cup Size Chart". You'll find the cup. For example, if your under-bust is 75cm and bust is 90cm. The different is 15cm and you will find D cup. In case you fall on the boundary between two cups, it simply means both cups may fit you depending on which band you're going to choose.
---
To find you band: You'll need both the under-bust (Figure 1) and under-the-armpit measurements (Figure 3). Take the same example as above, with under-bust is 75cm and under-the-armpit is 85cm, go across the "Band Size Chart" this time to locate your band, if both your underbust and armpit measurements fall in the same band, then that is your band. However, in many cases, the under-bust and under-the-armpit measurements may point to different bands. For example, if your under-bust is 75cm and bust is 90cm as before but this time the under-armpit is 87cm, then go cross "Under-bust" Figure (1) will give you 34/75 band but "Under-armpit" Figure (3) will give you 36/80 band. In this case, we suggest you to choose the band based on the "Under-armpit" Figure 3 as this band will usually give you better coverage on the underarm bulges.
For some women, you may find that there will be 2 band sizes suitable for you. No worries, it is normal as it means both bands may also suit you. Remember the bra size(s) that you get from the above did not take into account your breasts and body shape yet to find the perfect fit. That's why we have the "Get Fitted" online fitting service for you so that you do not have to worry about understanding all the logics.
---
Step 3: Adjusting Your Size between Your Sister Bra Sizes
You should know that the sizes that surround your current bra size are called your sister bra sizes. Whenever you try on a bra of your normal size you find in Steps 1&2 unfit, you can quickly try the sister bra sizes that will probably fit you.
Remember the rules of thumb about sister bra sizes:

Changing the band size, will change both the band and cup size.

Changing the cup size will just give you a cup size change.

Normally, to keep your cup size the same but want to change the band size only? If you go up a band size, then go down a cup size. If you go down a band size, then go up a cup size. This will keep your cup more or less the same cup volume. Because we classify our bras in more specific details, it is not uncommon to have 2-3 sister bra sizes recommended to you at a time.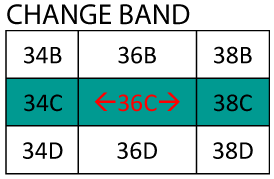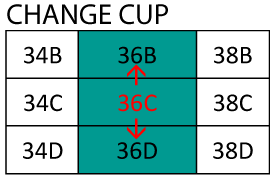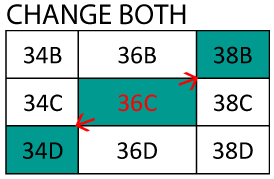 All women shall be well aware of the theory of 'sister bra sizes" and your own sister bra sizes from time to time. Sister bra sizes simply mean bra sizes that are usually fit you depending on the styles that you choose. Even for the same brand, a lot of women will find themselves fit a bra style with 2 bra sizes or even 3 bra sizes. We call these bra sizes are sister bra sizes.
---
Step 4: Know Your Body & Choose Proper Styles
Now you know how to find you size, however, apart from sizing consideration, you shall also know your body and shapes in order to find your best fitted styles. Or you can simply use our "Get Fitted" online service for best results.
Classify Your Breasts
Breasts come in many shapes and conditions. However, by means of grouping of similar breast shapes into category, we can design the best fitted bras for them. We usually describe the breasts in 2 parts:
Part 1: Breasts Shape
We group breast shapes into four common types that suit different bra styles:
| | |
| --- | --- |
| | Petite Athlete – Breasts with less volume but with wide bases. This type of breasts usually fit better with smaller cups but with underwires with larger curvature due to a comparatively wide base. |
---
| | |
| --- | --- |
| | Perky Point – Breasts with conical shape, perky and projected, usually with narrow bases but full on bottom. This type of breasts is very versatile and can fit most of the bra styles and cups. |
---
| | |
| --- | --- |
| | Round & Full - Breasts that look spherical shape, normally with wide bases and full on top. This type of breasts usually fit better with larger volume cups and underwires with larger curvature. Too pointy cups are not suitable. |
---
| | |
| --- | --- |
| | Tear Drop & Splayed – Breasts are "Papaya-like" shape, usually with narrow bases but full on top. This type of breasts usually fit better with larger volume and more coverage cups with underwires of normal curvature. |
---
Part 2: Breasts Separation
The space between you breast affects how a bra will fit you. You should know which of below is best describing your separation.

| | |
| --- | --- |
| | Closely located / Touching – Breasts that touch each other or are separated within 1 finger in width. They can be easily pushed together to form cleavage when put on a bra. You should choose bras with "Low & Medium Centre Gore" in the product page. |
---
| | |
| --- | --- |
| | Separated / Wide Set – Breasts that not touching each other and are separated more than 2-3 fingers in width apart. They can hardly pushed together to form cleavage even put on a contour bra. You should choose bras with "Medium & High Centre Gore" in the product page. |
---
Now, you should have enough information and are ready to try our "Get Fitted" online fitting service:
---
Step 5: Understand Your Problems

Do you have underarm Bulges/Accessory Breasts?
If yes, you should choose only bras with "Medium & High Underarm Coverage" in the product page.

Do you have back fats?
If so, you should choose our products with enhanced back coverage and with stronger band strength, which will help to hold and direct your back fats for a better silhouette and contour.

Do you have unsymmetrical breasts?
It is ok if they are only slightly. But if you find noticeable, you shall make proper adjustment when fitting a bra. As a rule of thumb, you shall always choose cup size to suit the bigger side of the breasts. The smaller side can be fitted with extra add-on or removable padding.
---
Topic 5: HOW TO FIT A BRA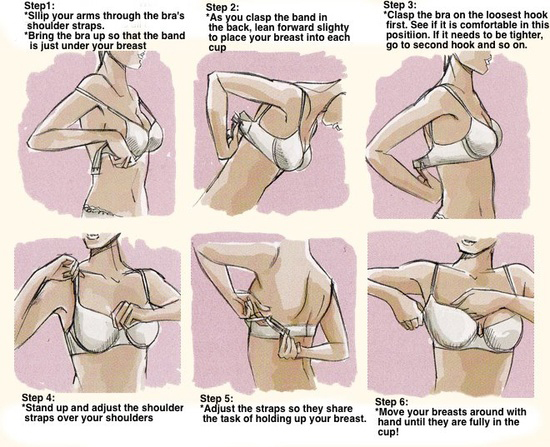 The Swoop and Scoop
One method to confirm that the bra is the best fit has been commonly named "the Swoop and Scoop". After identifying a well-fitting bra, bend forward (the swoop), allowing the breasts to fall into the bra, filling the cup naturally, and then fastening the bra to your comfortable hook, normally the middle hook(s). When stand up, use the opposite hand and start from the underarm to run along towards the centre panel and place each breast gently into the cup (the scoop). Then run the index finger along the inside top edge of the bra cup to make sure breast tissue doesn't spill over the edges. Then adjust the shoulder straps to comfortable length.
A swoop and scoop really makes a difference. With a good scoop when you put on a bra, it helps you to place the migrated breasts tissues back into the cups and will improve your fullness in the long run.
---
Check if your bra fits
After the swoop and scoop, you shall also take a few simple steps to check:

Band – Check the band follows a horizontal line across your body and is not riding up at the back. You should be able to slide two finders easily underneath the back band. No deep indent of band into flesh. When you try to pull the back band outwards, it should not be excess by more than 2 inches.

Straps – Adjust straps to a comfortable length. No deep indent of straps on shoulder. No occasional slip off of straps. You should only be able to fit no more than 3 fingers between the shoulder straps and your body. If you can pull the shoulder straps further away from your body, make your straps firmer. This should change how your cups fit as you may bulge at the top of your cup.

Cups – The underwires of the cups should sit flat against your ribcage without any gapping. No gapping or bulging out over the top, bottom or the sides of the cup.

Underarm Panels – No excess bulges exposed at the underarms. It means all migrated breasts tissues are placed in the cups.

Final check – Try to raise your arms above shoulders and see if the bra goes up. Try to turn your body to see if the bra dislocates. If not, you're good to go.
---
Quick Fit Solutions
Below are some quick fit solutions to some common bra fitting problems:

Band Fits But Not Cup – Change cup size only.

Cup Fits but not band – Change band size but change cup size on the opposite way. For example, up size a band shall down size a cup. Remember the "Sister Bra Sizes" theory!!

Neither Cup or Band Fit – Try to change your band size but keep the cup size. It will actually change the cup size by one size already.

Band Rides Up or Sits too High? - Check if band is too loose. Also, try to fasten on the closer hook(s). If still loose, decrease band size until it sits horizontally around the body.

Straps Fall off or Digging In - Adjust straps. Check band size is not too big, straps may slip if too wide on the shoulders and may dig in if taking on too much support. Just note that the weight of your breast should be on both your bra's underbust and straps, NOT just on your straps. If you notice the strain is on your shoulders your bra's underbust is not doing its job, either too loose or inadequate support!

Bust Spilling over or under the cups or Cup Cuts In - Check cup size is not too small? At the same time check whether the band size is just right.

Gapping Cups – Decrease cup size until bust sits smoothly within cup. But if you have unsymmetrical breasts issue, you should choose cup size to match with the bigger side of your breasts, the smaller side can then be fitted with removable padding to fill up gaps.

Wires don't sit flat against chest, ribcage or under-bust – Choose another style as it does not suit your breasts shape / body shape.

Wires dig in the middle of chest only – Choose bras with low centre gore position.

Wires dig in the side of cups – Increase cup size or choose another style.

Uneven breasts - Wear a bra fitted to the larger breast to avoid cup squeezing the larger breast and pad the smaller side or shorten its strap to avoid gapping.
---
Topic 6 – OUR SHAPEWEAR

Want beautiful contour and slimmer outlook instantly for a special occasion? Want instant lift, smooth and beautiful curve whilst keep in shape everyday?
Yes, you can now. We have variety of Shapewear from light, medium to high compression to suit your need. Light and medium compression ones can be worn long hours everyday whilst give you a gentle lift, smooth and firmed finish. High compression ones can be worn for your special occasions for maximum beautifying curve and tightening effect immediately.
---
Shaping Tops
Our shaping tops can provide light to medium compression and control to your upper torso and can be worn long hours everyday. They are designed to give you a smoothened and firmed waistline in a comfortably way.
---
Shaping Bottoms
We have many shapewear designed for your lower torso, such control panties, girdles, hosieries, with different compression levels and controls. They can give you an instant lift, firm and support to your hips and tummies. Some of them are designed to also trim your thighs for a slimmer outlook.
---
Body Suits
For full body control from waistline, buttocks to even thighs, we have body suits to slim and trim your overall curve in one go.
---
Emana® Shapewear
Emana® is a revolutionary fabric that makes possible the creation of bioactive apparels able to promote interaction between the fabric and the skin, in order to enhance blood circulation. Studies have shown that EMANA ® can help to increase skin elasticity and reduce the appearance of cellulite, delivering a smoother and younger skin after 60 days of continuous wear. Therefore, we incorporated it in our shapewear design in commonly-known problematical areas such as tummy, buttocks and thighs for best results.
---
We made use of Emana® fabric's advantages and used it in our girdles and control panties designs at areas such as waist, buttock and thigh, which are more prone to bad blood circulation and fat accumulation. Long term improvements on reduction of cellulite and visibly younger and firmer skin will be seen.
---
Get Correct Measurements for Shapewear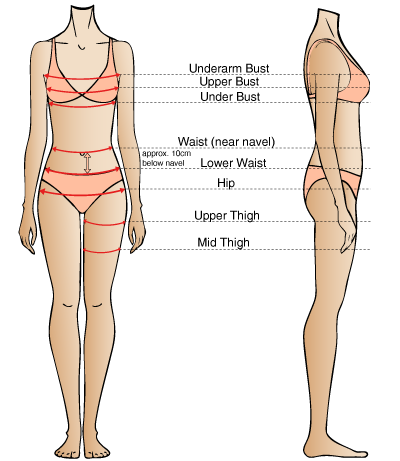 Measure your Waist, Hips and Thighs
When you need to choose a pantie, thong or shapewear, correctly measure your body is important. There are a few general rules of thumb:

Mid-Waist - Measure your waist at navel level (where your belly button is.) Simply wrap the measure tape horizontal around your waist gently and read the measurement.

Low-Waist - Measure another figure at about 10 centimeters below your navel level. This will simply give you the measurement for properly choosing low-waist products, such as low-waist panties.

Hips - Measure your hips simply by wrapping the measure tape around the fullest part of your buttock horizontal. Remember not to wrap it too tight!

Upper Thighs - Measure your thigh simply by wrapping the measure tape around the biggest part of your thigh.
---
Match with Sizing Table for Perfect Fit
Each of our shapewear is designed with different functions. Hence, once you have the correct measurement, simply match with the individual sizing table for that product to find the right size and fit. The individual sizing table is shown in the product page.
If you cannot match any size with the measurements, it may means that item may not suit your body shape. Or you can Contact us for help.