2017-02-03
The Shapes of Back Band Work Different Magic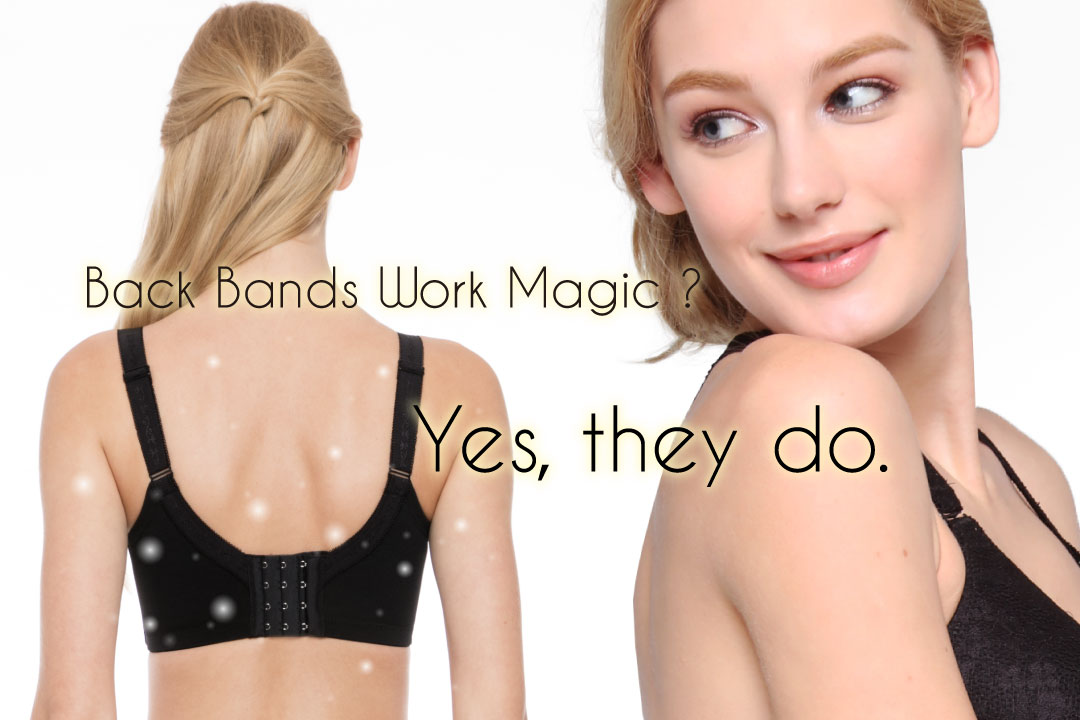 Different Shapes Work For Different People
As a functional shaping bra expert, we provide a variety of back band designs coupled with more rows of hooks that gives unique functions to cover your different needs. It is not difficult to imagine that a wider band with more back covered can minimize the appearance of unwanted back fat and gives a smoother look at the back. Let's have a look of what shapes of back band will work different magic for you.
Straight Back
A straight and narrow band design gives no special design consideration on the coverage. A bra with band type will not be placed in our functional shaping category as the level of support is very limited. This type of band is mostly seen on fashion and multi-way bras. You can expect a 2-row hooks, or 3-row hooks at most at the buckle as the band is narrow. And of course, you can expect that you will feel much freedom of movement in it as the coverage at your back is so minimal.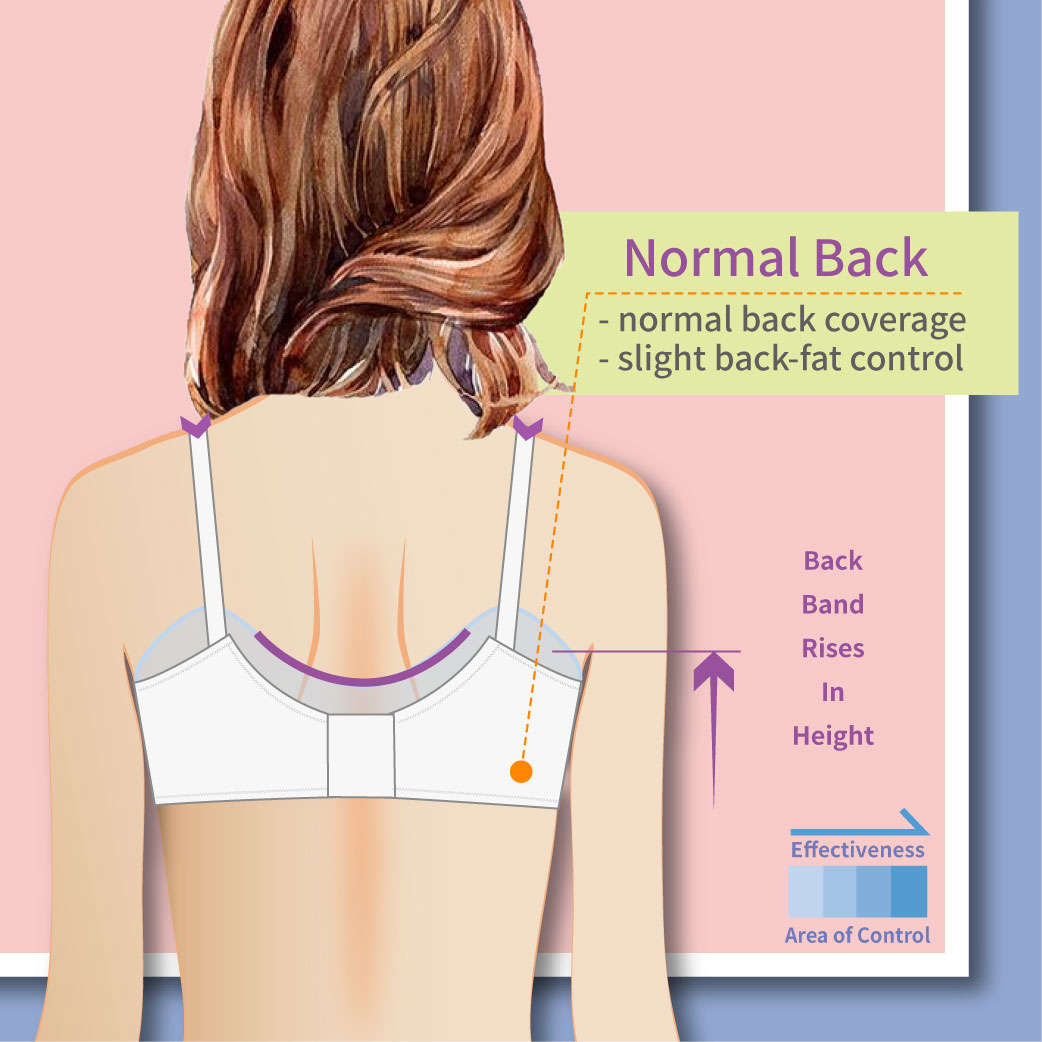 Normal Back
You can find normal back design in most of the conventional bras in the market. Without any extra back coverage for back fat like U-back and V-backs, the band is only good enough for supporting the weight of the breasts and no more. It is commonly used on conventional bras, sleeping bras or maternity bras. Although there is no shaping effect at the back, this back band suits better for those with round or sloping shoulders to avoid bra straps from slipping off.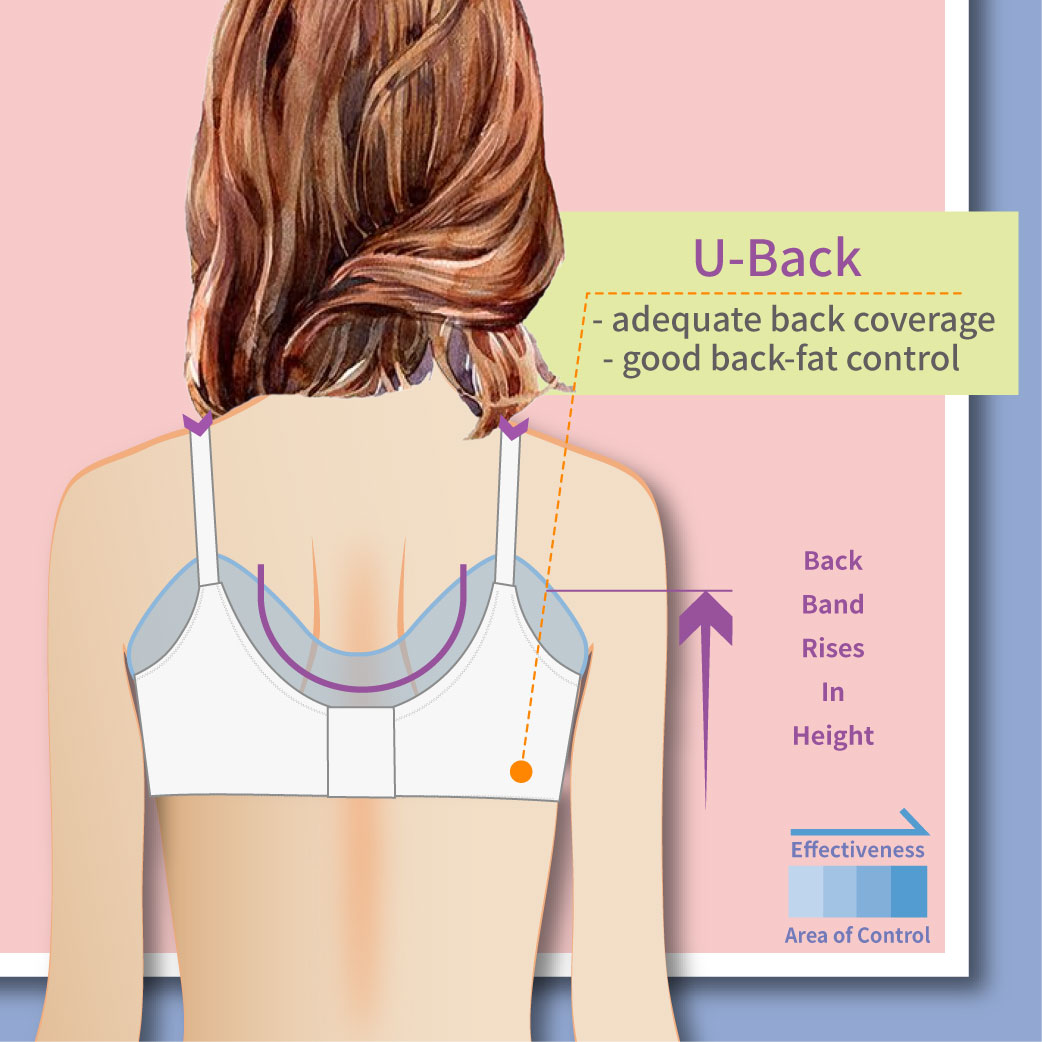 U-Back
The shape of the back band forms a small letter "u" that some people call it ballet back or leotard back. It has less coverage than a V-shape at the centre that allows you to show more of your sexy back, but still can embrace your back securely and flatten your back bulges. It is specially designed for most common body shapes with normal shoulders to give adequate back coverage and control. One thing to note is that bras with this back design is more likely to have straps slipping off than V-back if you have sloping shoulders.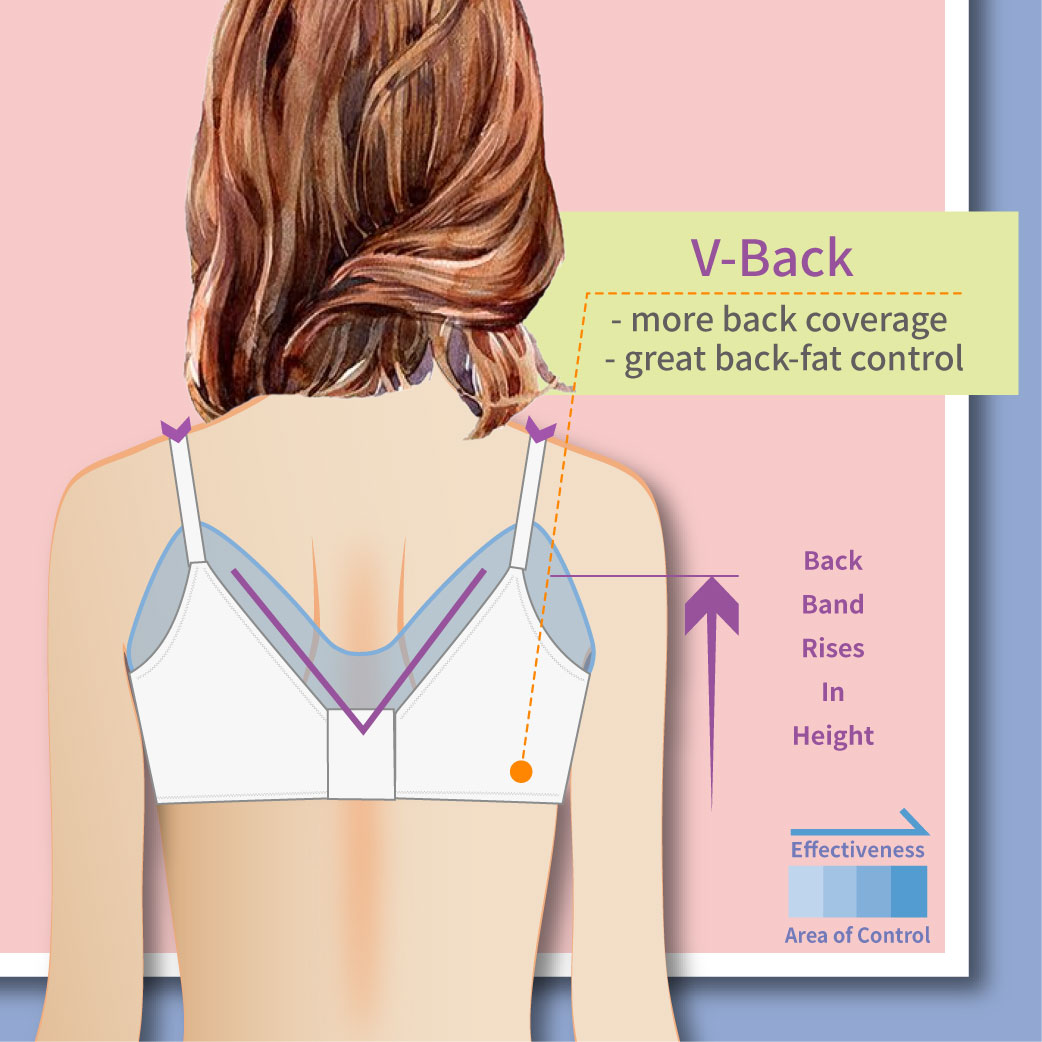 Normal V-Back
In comparing to Wide V-back, the normal V-back comes in smaller like a small letter "v". It is a junior version of Wide V that gives adequate back coverage and can still distribute the back fat evenly across the back with slightly less coverage. One advantage of this over a Wide V-back is that this smaller V at the back band without extending the neckline high up the back helps to keep straps on your shoulder better. It is very suitable for women with narrow or sloping shoulders, who have straps slipping-off issue all the time.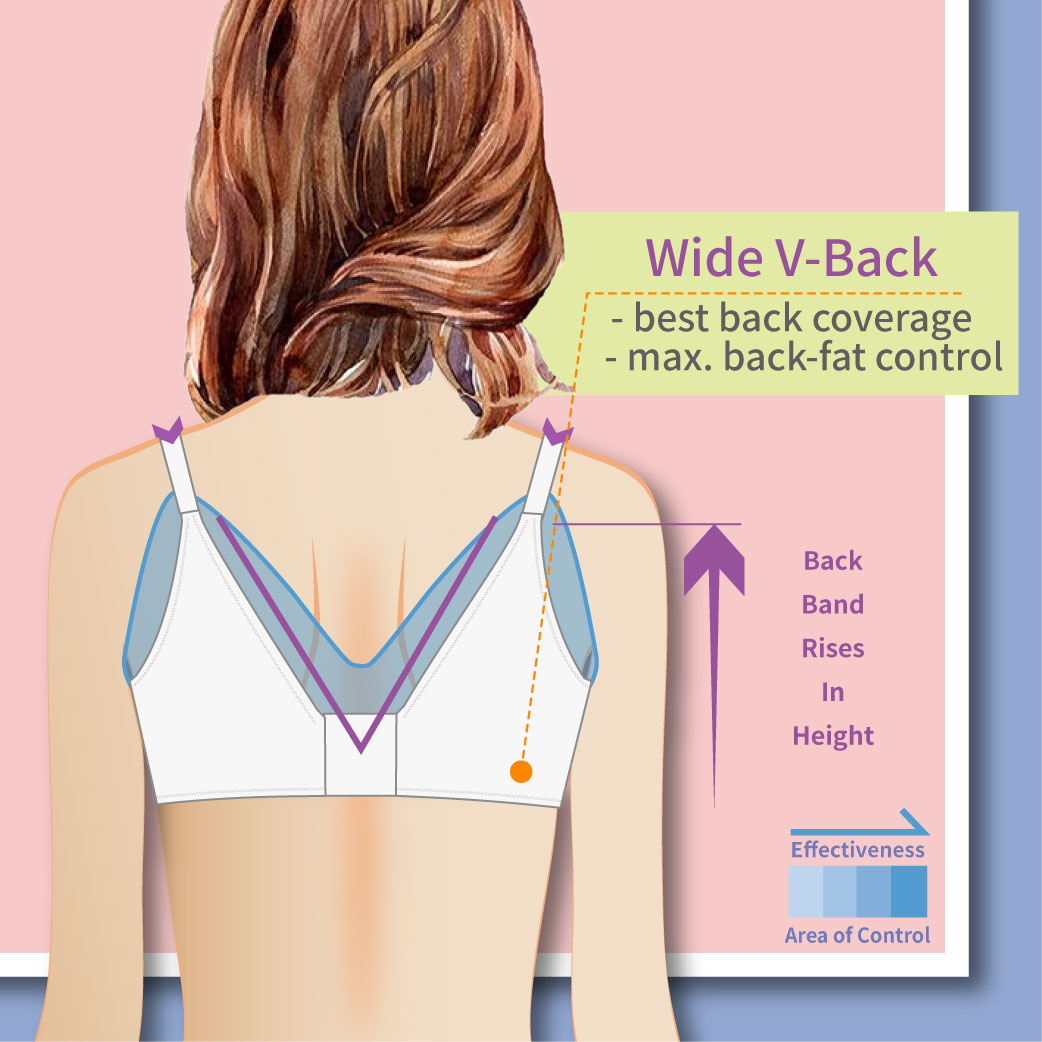 Wide V-Back
As the name says, the shape of this band looks like a big capital letter "V" at the back when you put on the bra. Any bra with this back band type gives maximum back coverage. It can effectively distribute any back fat evenly across your back and create a smooth silhouette under clothes. The V-shape design also helps to keep your straps on your shoulder from slipping off. It is particular suitable for those with broad shoulders but a comparatively smaller under-bust.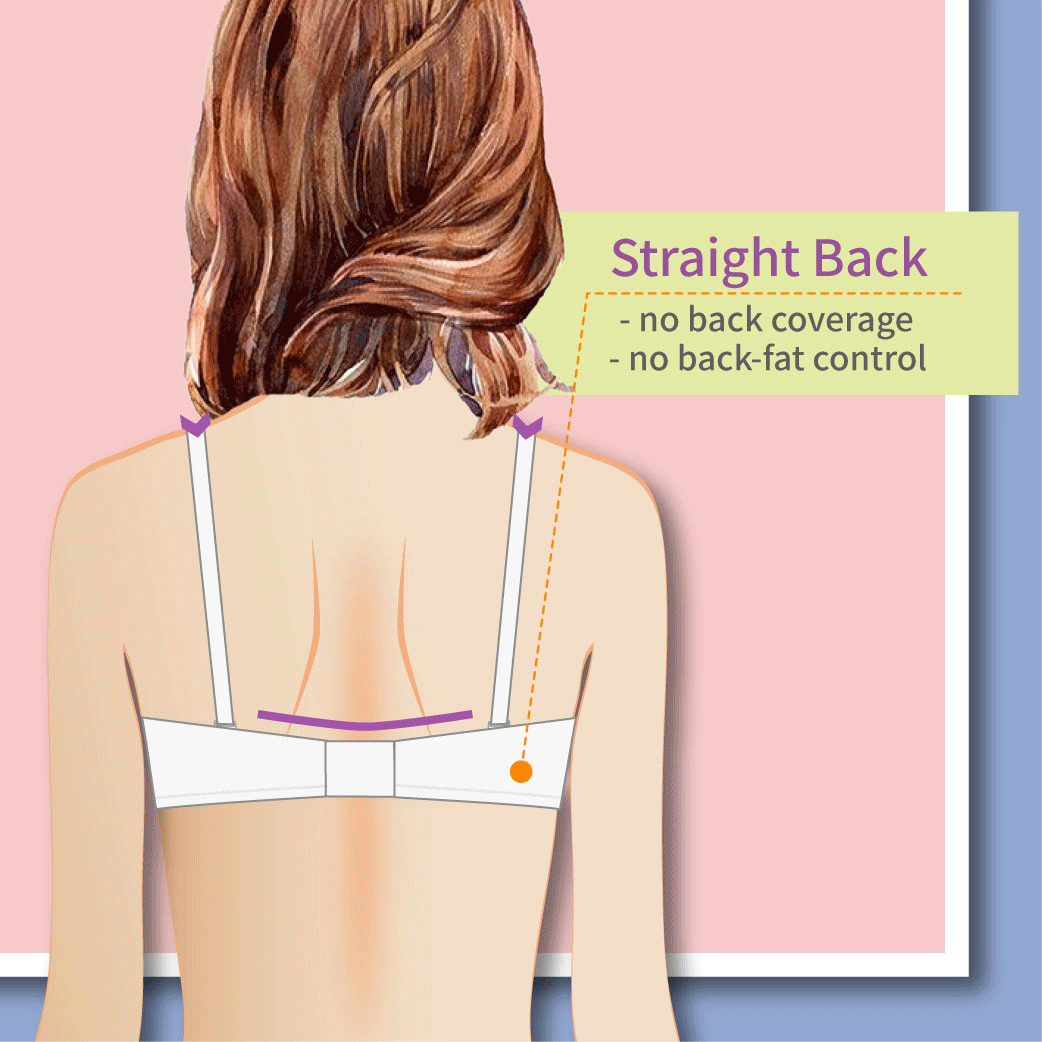 All-In-One Go
Lastly, for your best and easy understanding, we have put together the types of back bands discussed in one single illustration for you. As you can see, the coverage at the back increases so as the effectiveness of control of back-fats as we go from straight-, normal-, U-, V- to Wide V-backs. We hope that you know which one suits you better in different occasions from now on and enjoy the different choices of our bras that are available to you. XOXO.